Attract More Shoppers with Newly Designed Ads
85% of our customers feel online listings are an integral part of their search. How are you making sure your listings stand out among the competition?
Our new Spotlight products and product bundles allow consumers to shop a carousel of your units below the search form on the marketplace homepage, among the listings on every page of the search results, and in "sticky" anchor ads that adheres to the bottom of desktop users' screens. This provides:
Better exposure in your market
More prospects finding your units
More brand awareness of your dealership
Homepage Inventory Spotlight Ad
86% of online shoppers expect information about products or services on a website's homepage. With over 1 million monthly unique visitors on Commercial Truck Trader, that's over 1 million opportunities to capture consumers on the homepage before they even conduct a search. That's the power of Homepage Inventory Spotlight ads, which place your inventory in scrollable carousel ads on the Commercial Truck Trader homepage, just below the Search Form.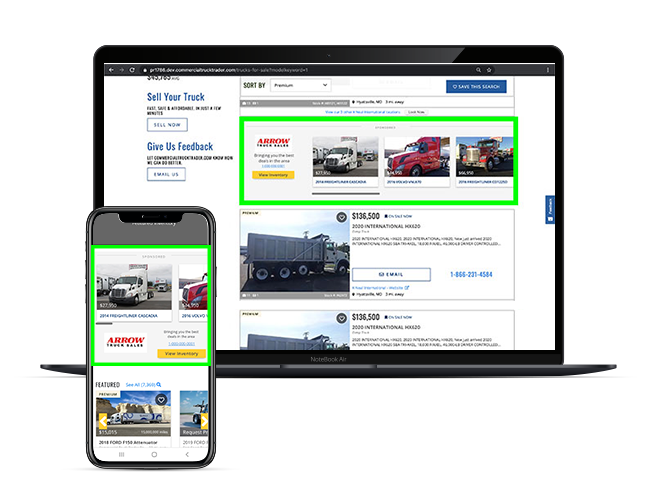 Engaged search spotlight ads
Half of all product searches start on a specific digital marketplace, like Commercial Truck Trader. As consumers search listings in our marketplace, your inventory needs to be easily accessible for digital shoppers. Engaged Search Spotlight ads place your inventory in a scrollable carousel below the 13th listing on every search results page, helping you attract more prospects, increase your exposure, and move more inventory.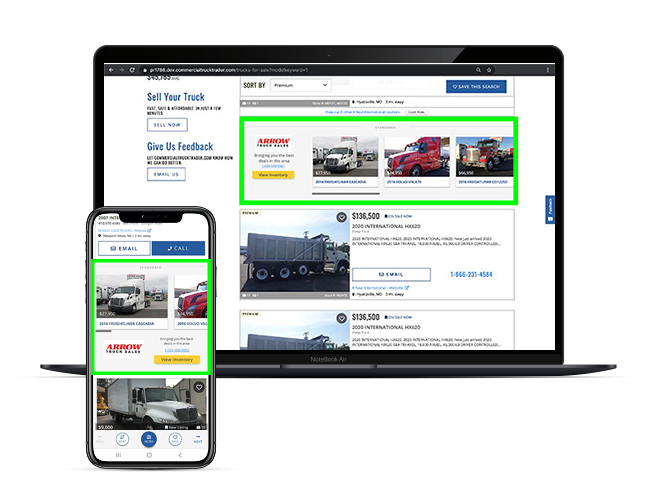 65% of customers spend over 16 minutes canvassing for better deals before buying a product. With Search Adhesion ads, your dealership can remain in front of consumers as they move from listing to listing during their research. These "sticky" anchor ads are banner ads that adhere to the bottom of a user's desktop screen on each search results page, remaining visible even as shoppers scroll. Search Adhesion guarantees constant visibility so you stay top-of-mind, advantage over the competition, and increased exposure and awareness.