32% OF COMMERCIAL TRUCK TRADER CONSUMERS WANT TO HEAR BACK WITHIN AN HOUR OF SUBMITTING A LEAD
Consumers' communication expectations have changed. Information is now available at their fingertips and conversations are expected to take place in real-time. Luckily, through our Chat feature, consumers can get the answers they need, when they need it.
Chat helps you strengthen rapport with potential buyers through convenient and timely one-on-one conversations, helping to further increase your connections. As potential buyers browse your listings, this product allows you to provide them with answers and support in the moment, helping them move down the path to purchase quicker.
Connect Instantly With Consumers & Convert Leads
In TraderTraxx, when a new chat comes in, you are able to converse with the interested individual in real-time, collecting vital lead information such as name, address, phone and email. 
Manage All in One Convenient Place
Chat is managed in the same place you are already receiving leads information, managing inventory, and accessing reporting, TraderTraxx. 
Meet The Chat Demand
There is a large desire for chat among your audience as 79% of consumers prefer live chats because they offer instant responses.1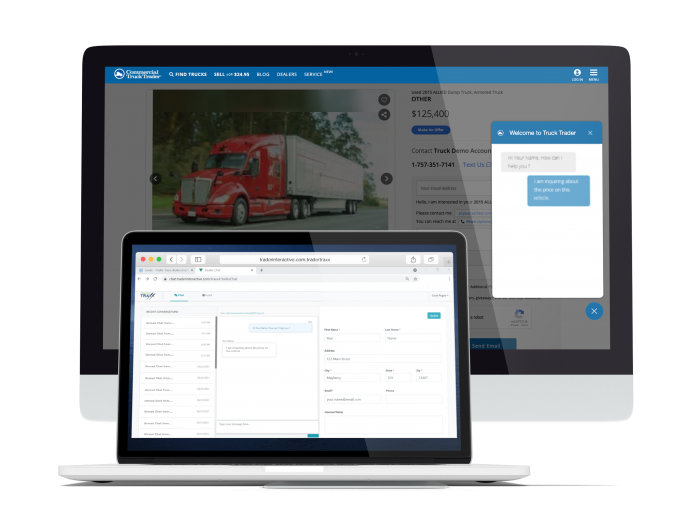 Being able to chat instantly is great, but we know you are busy running your business and can't always be available to chat right away. That's where Managed Chat Concierge comes in. In the moments that you aren't immediately available, incoming chats from potential buyers on Commercial Truck Trader Trader are automatically responded to via live advisors and their contact information, along with a transcript of the conversation, is sent to you for review and to further pursue contact.
Reply to Customers Automatically
You can choose to respond to a potential buyer yourself or have a Managed Chat Concierge representative step in for you, so that you can stay focused on closing your next deal. 
24/7 Dealership Hours
Someone is always available and actively responding to a potential customer, keeping them engaged, even while you're away
Seamless Dealer Experience
Receive chat leads and transcripts directly to the email address already set up for your other Commercial Truck Trader leads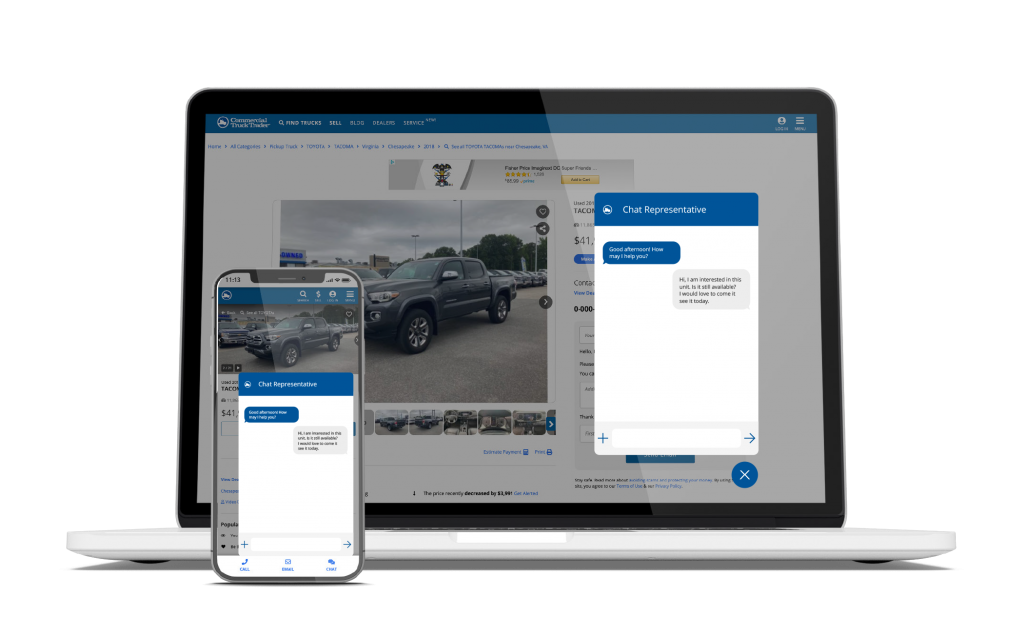 LET'S CONNECT AND TALK MORE ABOUT INSTANTLY CONNECTING WITH YOUR NEXT POTENTIAL CUSTOMER